Don't Fall For This SCAM!
If you have ever purchased a domain, you've probably received a letter in the mail that looks like this: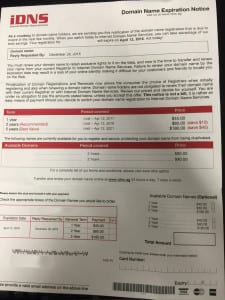 THIS IS A SCAM.
Throw this away! This is NOT a valid renewal notice for your domain name. This company searches public records and sends out letters that look like an invoice for you to renew your domain name. There are several red flags on this letter:
The second sentence says "When you switch today to Internet Domain Name Services" – indicating that this isn't actually your current domain registrar.
The second paragraph says "now is the time to transfer your name from your current Registrar to Internet Domain Name Services"
The prices! Most registrars charge anywhere between $10-$30 per year for a domain registration or renewal. This company is listing the price at $45!
I Fell For It, Now What?
$300 out of your pocket, that's what. Unfortunately, even though this is an expensive solicitation, if you fell for it then you're stuck paying their "Redemption Fee". There's not a thing you can do about it except pay the ransom, oops, I meant "Redemption Fee".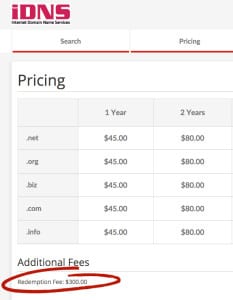 As with anything else in life, be wary of unfamiliar bills. Your current domain registrar will notify you of your domain renewal with plenty of lead time to renew.