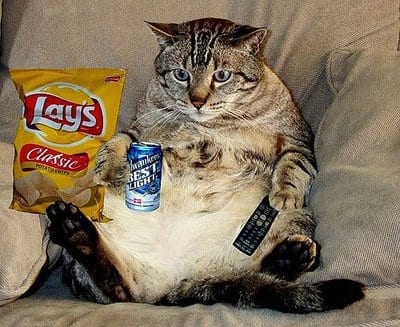 The washing season is winding down. Whether you have snow plowing or holiday lighting on the docket this year or not, at some point you'll have a few weeks of off season to recoup and plan for 2016. Planning your marketing is kind of like the new year's resolution to lose weight: in our minds we have this list of things we're going to get in order while we have the time…only to waste it vegging out on the sofa like Couch Potato Cat up there.
I Know I Should, But I Don't Know Where To Start
The easiest excuse out there: I don't know where to start because it's such a big task. Negative, ghost rider. It's not. And we're here to help you organize that seemingly giant task into quick, easy and reachable goals over the winter:
Local Listings

Get them straight! Consistent NAP (Name, Address, Phone) data is becoming more and more important. Google your company name, phone number and website. Locate the listings you have out there, and make sure they all have the same data. Find new directories by performing some service related searches in your local area. What directories are showing up? List yourself there. This is a simple, but sometimes time-consuming task. If you find it difficult to find the time, make a goal to resolve or add 4-5 each day. If it is really not working out, check out our Lighting Local Listing service…

Social

I'm not just talking Facebook. Where are your customers spending time when they're relaxed? Facebook is a large majority, yes, but what about Instagram? LinkedIn? Pinterest? Only you know who your target market is…find out where they are, and put your brand there. Social tools like Monarch will allow you to connect multiple networks and schedule out posts for MONTHS! Set it and forget it.  Well…don't forget it, the goal is interaction and brand recognition, right? To start that interaction, you need to post something! Which brings us to #3.

Pictures

Did you take pictures of your work this year? Are they still on your phone? Downloaded to your laptop? Wherever they are, USE THEM! Nothing speaks more to your market than seeing your hard work. Stock photos are nice, but your customers and prospects know what they are. Show your team in action! Prospects want to know you can produce results, so why not show them you can.

Reviews

How many times have you looked for something, a plumber or electrician maybe, and you get a long list of choices? How do you decide who to call? That's right, reviews! Showing up #1 in any search (Google, Thumbtack, Angie's List, etc) does NOT mean you get the call or the sale. You pick the one that seems the most credible to you – and the only way you can determine that by a glance, is those little gold stars. If you don't have any, why not? Did you ask for them? Write down a system, or script, to use at every job during 2016 so that you can have the MOST reviews in that list! Check out the nifty Your Experience app that our marketing customers will be using next year.

Writing

Write what? If you're one of those people who is light with words and more about action: snap out of it!  You talk to your customers every day don't you?!? What are you saying? What questions are you answering? What do you say to the older widow who wants to know about her flowers, her goldfish pond, her rocking chairs, and all the other little things she is overly concerned about when you wash her house? What is your procedure when you arrive at a job? Put these things down in writing…make it a goal to put something down on your electronic pen and paper each day. Post it on your website! The info will be indexed by search engines, and highly helpful to your customers.

Planning

Now that you have some items to do, put down your goals in writing. When you write out what you want to accomplish, you are more likely to actually accomplish it. Use your winter wisely!!  Get your much needed rest and vegged out couch time, but don't waste all of it binging on Netflix. Spend an hour accomplishing something on this list. Done every day, you can make much needed progress over the winter towards a great 2016!
Still need help? Check out our winter case study from 2014.