Our First Review on Clutch!
Since the internet took hold of the world, businesses have been spending more on digital marketing campaigns. However, not all of them succeed. Poorly managed digital marketing campaigns are one of the reasons many small businesses fail. 
As an ROI-focused marketing company, we at Ambidextrous Services know the value of well-managed and targeted marketing for small businesses. 
A satisfied customer of ours reached out to Clutch, a ratings and reviews website, to share his five-star experience with us. The company, ETI Environmental Inc., needed a website for their upcoming business. Ambidextrous Services was more than ready to give a helping hand.
The goal was more than just setting up a website; it was also to set the business up for success in terms of advertising and general know-how when it comes to reaching customers through meaningful marketing and streamlined campaigns. 
Our team connected the client to industry leaders and tagged them along in conventions. Our goal: keep them abreast of the latest trends and best practices in digital marketing. We also created two websites: one for when the business starts, and the other for when they seize the opportunity to settle into their niche and have firmer industry footing.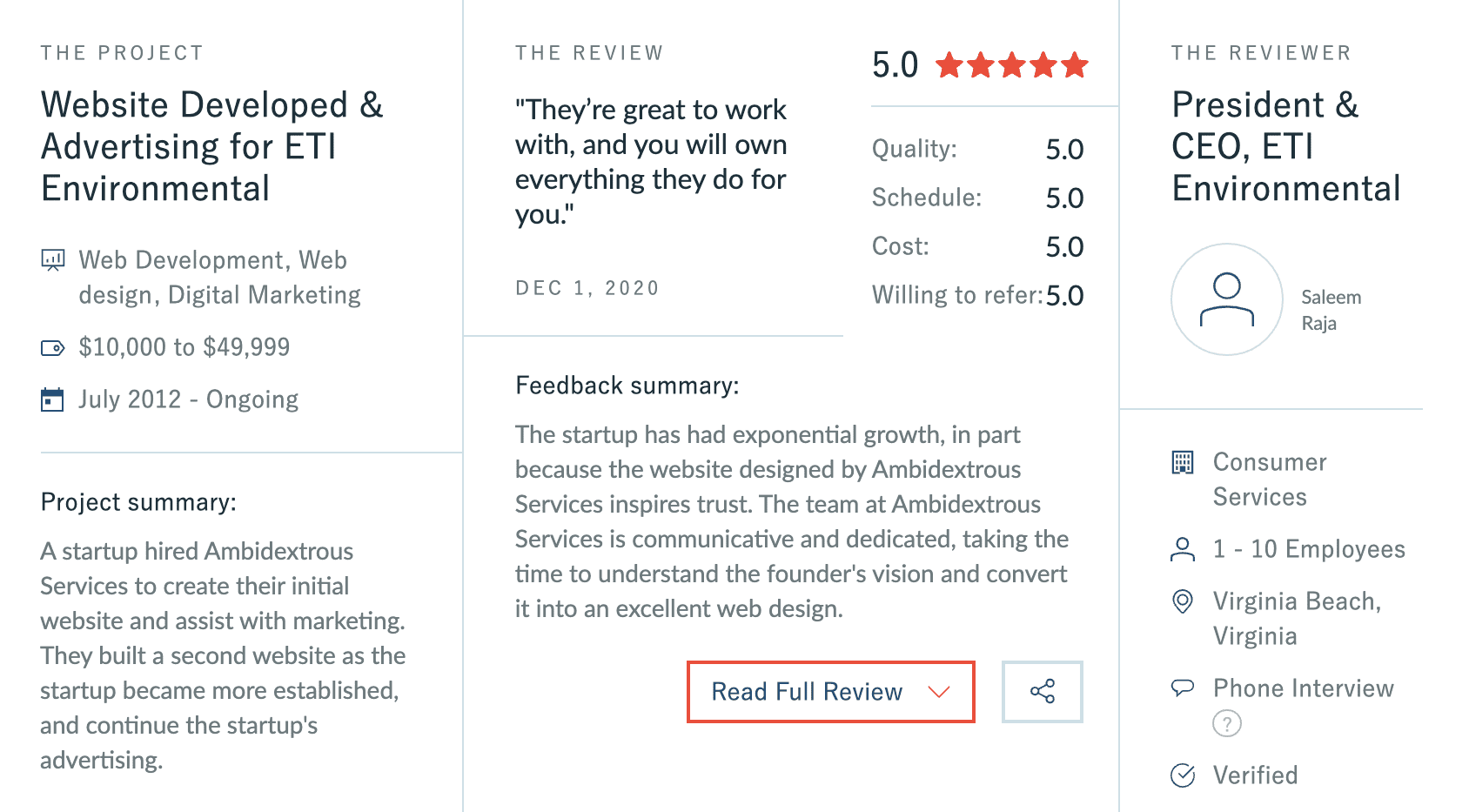 We're still working with them to provide advertising services and help come up with ideas to establish their success in their niche. 
All of our efforts yielded great success: they've managed to grow exponentially over the years. The website we created has gotten hold of more confident visitors, and the company has even won awards and jobs. 
Here's what the client has to say about our services: 
"They took the time to understand my vision and convert it into pictures and words." — President & CEO, ETI Environmental Inc. 
The Manifest, Clutch's sister website, also recognized our hard work. Providing lists of companies that are excelling in their business, The Manifest included us in their top 20 SEO companies in Raleigh — thanks to our appreciative customers and their feedback. 
We strive hard to "WOW!" our customers and be the leader of ROI-based web development and digital marketing in Raleigh. Our focus: ownership, transparency, and simplicity. And all feedback and awards from customers are greatly appreciated. 
After having created almost 700 websites for clients around the world, we're only getting more dedicated and passionate about our job. If you think we're the right fit for your needs, feel free to message us and discuss a project.