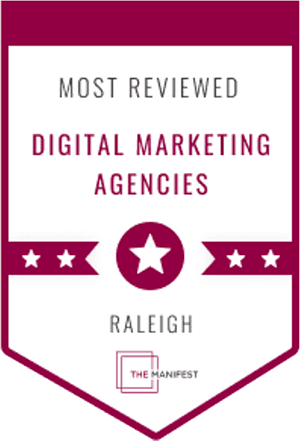 The Manifest Names Ambidextrous Services Among Raleigh's Most Reviewed Digital Marketing Companies
At Ambidextrous Marketing, we help small businesses and startups establish an online presence that has the guts to compete with the larger, branded competition. We strive to "WOW" every customer, and their customers, with robust web designs that convey professionalism and excellence.
With this in mind, we're nothing but proud of being recognized as one of Raleigh's most reviewed digital marketing companies on The Manifest. The Manifest is a business news and how-to website that helps companies rank in their respective industries through gathering verified reviews from past clients.
Are you wondering how we got here? Let's take a look at where it all began.
In 2006, Anya Curry established Ambidextrous Services. Since then, we have been involved in hundreds of website projects in Raleigh, Clayton as well as nationwide. Our goal is not only to assist small business owners in establishing an online presence but also to educate them so that one day they can take the reigns and lead the way for their success.
Custom Canvas Works, an awning and canvas company, wanted to update its outdated website. We developed a new website from a previously constructed template and utilized the client's idea of what they wanted from the site.
"We never had to wait for deliverables from Ambidextrous Services — we were generally the ones who were slow." – Serena Currie, CFO & Office Manager, Custom Canvas Works
In 2022 The Manifest releases its list of the top companies, and we're named one of Raleigh's leading and most reviewed digital marketing companies. "We are honored to receive such a prestigious award from Clutch. Our commitment to customer service and quality results is second to none! The staff at Ambidextrous Services truly cares for each and every one of our clients' success. An important part of our company culture is knowing that if our clients are successful, so are we!" says Anya Curry, CEO of Ambidextrous Services.
We'd like to thank our clients for their support throughout the years, and we're incredibly grateful to those who took the time to leave us feedback on how our services impacted their businesses.